Developed receptionist AI "Nyandroid"
The receptionist AI "Nyandroid" is installed at the first floor entrance of the Big Group headquarters building.
The AI recognizes visitors, makes eye contact with them at all times, and spontaneously greets and talks to them.
By pre-setting the name of the company, the person in charge, and the expected time of the visitor's visit, the AI can automatically unlock the door and open it by recognizing the voice saying, "This is XXX from XXX company.
In addition to the receptionist function, the system also includes a variety of other features, such as recommended real estate listings and weather forecasts for Japan and other parts of the world.

This "Nyandroid" is a Windows-based program that uses Unity as its screen display engine, and is packed with various technologies such as voice recognition, natural language analysis, facial recognition, lip-sync...etc.

Nyandroid viewing a TV commercial.
Nyandroid are used to greet visitors.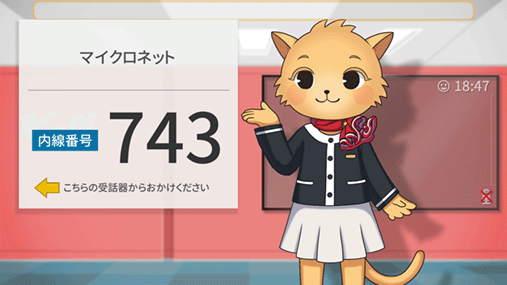 Speak your requirements into the microphone and it will give you the extension
number of the person in charge.
Nyandroids can change their costumes according to seasonal events and can also chat with you.
Please come and meet Nyandroid!
3D telop system library for broadcasting
The indispensable "sport coder" system in sport relay broadcast programs, such as baseball and soccer,
which carries out OA of the huge game information correctly and quickly.
The system which visualizes various information by the vision effect with impact.
The "virtual field" system which gives visually a synthetic indication of the ski jumping and the golf game which utilized virtual CG technology intelligibly.
Provides a program library and motion editor for the Broadcast telop system.
Because the telop is treated as a 3D object, it can be edited with a high degree of freedom.
The necessary IN and OUT motions for telop can be set for each take.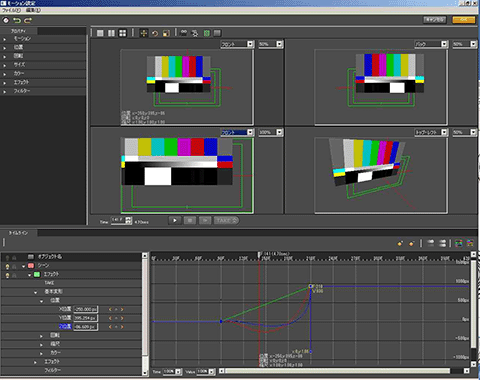 Highly flexible ticker motion with 3D control by Motion Editor.
Various wipes can be set up. (The screen shows a circle wipe in action.)
Light running effect motion can be added to the ticker.
3D object data can be imported, such as collada files.
Walkthrough development using Unreal Engine
We are creating an indoor/outdoor walkthrough program using the Unreal Engine.
Various patterns can be switched in real time, such as lights on/off, door shapes, wallpaper, etc.
It is characterized by high quality and high flexibility.


It is possible to change to multiple preregistered wallpaper patterns.
Of course, sofas can also be selected from a registered pattern.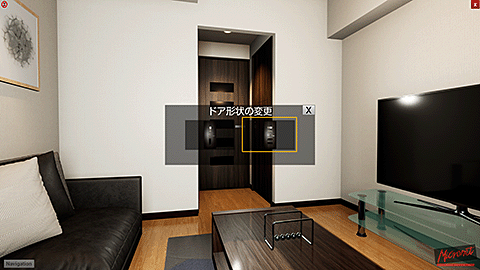 Doors are no exception, and changes are reflected in real time.
It is possible to switch between day and night, and to switch lighting on and off.
3DCG become ubiquitous graphic representation. We introduce some features of
3D-NIXUS
(*) which we developed.
3DCG control software development
3D-NIXUS
(TM) (*)
The real time 3DCG drawing control portion, which is the core of 3D-NIXUS is offered as
a high level graphics library developed originally based on 3DX technology of our company.
In a front end application side, it is possible to realize main control which is needed at the
time of broadcast called rewriting of an action trigger, text,etc. on 3DCG, without describing
the processing to the 3D drawing itself.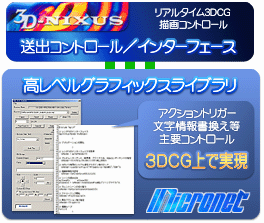 The SDK window in a figure is a sample for development.
Plug-in software development of a ready-made CG tool
3D-NIXUS
(TM) (*)
Plug-in software development of a ready-made CG design tool.
For example, it is possible to manufacture by 3ds max(r) and to carry out batch export through
plug-in only for 3ds max of development of our company as the scene data containing textures or
animation including form data.It is also possible to realize on the air the scene reproduced on 3ds max as it is,
without carrying out a re-setup on 3D-NIXUS.(※On the scene reproduced on the real time renderer of
plug-in only for 3ds max, it differs from the quality of image of the software renderer for 3ds max.)
The control needed at the time of broadcast, such as an action trigger and text area, is also set up on plug-in.
3D virtual studio system
If it is 3D virtual studio system which used 3D-NIXUS as a 3D character generator, a virtual studio system is realizable at low cost.
Control software & Simulation software development
Sending through RS422/RS232C on real time from camera sensor camera position data (pan,tilt,zoom,focus etc.)
is matched on real time by the virtual camera and high precision which were defined in 3DCG space
by the software for calibrations for which our company developed it originally.
With an actual camera, there is surely a gap of the rotation center at the time of equipping the distortion and
camera platform based on pictures with a lens.
If these cannot be simulated correctly, an on-the-spot picture does not match CG.And if the simulation of the zoom
characteristic for every lens cannot be carried out faithfully, CG and an on-the-spot picture do not match too.




An inquiry, an estimate, etc.
Micronet Co., Ltd.
Charge: Development department : Mr.Ito
micronet@micronetclub.co.jp
Big Group BLD. 4F
6, S4, W7,
Chuo-ku, Sapporo, Japan
TEL: +81-11-561-1370
FAX: +81-11-561-0953
(※)The above-mentioned company name and a product name are the trademarks or registered trademarks of each company.
In the text, TM and a R mark do not write clearly except the case of the first appearance.